Slide
Award-Winning
EAST Restaurant
& Lounge
Featuring Chinese, Japanese and Thai cuisine that will bring you back time and time again.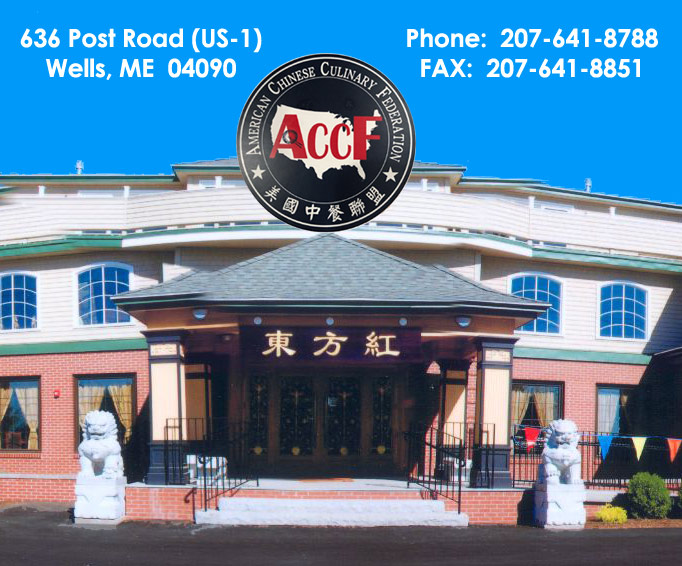 EAST Restaurant & Lounge of Wells, Maine is open year round for your convenience offering a wide selection of your favorite Chinese, Japanese and Thai cuisine. We also feature our popular lounge & bar and Sunday Buffet.
In addition, EAST Restaurant & Lounge offers Catering Services and our dining facilities are perfect for holding Private Parties or Functions between 100 to 150 people.
We accept all major credit cards and offer Gift Certificates. We also have extended hours for the summer. For a complete listing of the hours that we are open, please visit our Hours Open page. Delivery? Please call us to ask about delivery services.
Please have a look at our About Us page to for our Welcome, to learn of our Hours Open, view our Awards and Press, learn about out Affiliates and to see our Photo Gallery.
Please Contact Us if you have any questions or use our directions page to help find us. We look forward to your visit to EAST Restaurant & Lounge.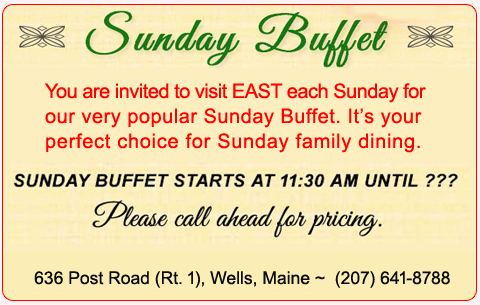 Read what others are saying about us.
Dan H


December 1, 2023
Theresa Sheldon


November 17, 2023
I had avoided this place due to very mixed reviews but maple leaves closed and the places I tired after were just not good. Desperate for decent lo mein and crab Rangoon, I braved East. So glad I did because both items were great! The chicken in the lo mein was a little dry but the noodles were great. So happy I gave it a try. We will be back when we are craving lo mein again soon!
Elizabeth Prybylo


November 1, 2023
Great Chinese, fresh food.
Myrna Barba


November 1, 2023
Always a great meal. Wide variety of choices.
David Bethancourt


November 1, 2023
Some of the best Chinese we've had and I would venture to say best in the area. This is a stop we go to whenever we're here. Lunch/Dinner specials are a great value. Good portions, good food. Place is a little dated but didn't bother us. We'll be back!
Eric Rouille


November 1, 2023
Dinner at East is a tradition for us any time we're in town. The selection of Asian food has something for everyone. Vegetarian options: There are a lot of options here for vegetarians, but check with your server before assuming something is safe.
Todd Andrews


October 1, 2023
Large portions, nicely seasoned without excessive sodium. Busy takeout service.
Taylor Ford


October 1, 2023
Awesome meal, plenty of food, good sushi.
Bill Bagrud


October 1, 2023
I love going to the East. it's the best place to go with great drinks and awesome food.
kristie meola


October 1, 2023
We went to the Sunday buffet recently. The General Two's chicken. OMFG. I've never had crispy chicken that was tossed in sauce that still managed to stay crispy. Amazing. The wings were deceptively juicy. Previously, we had dinner there and likewise, food tasted as if I made it at home (if I knew how to cook this style) because it tasted fresh and not prepackaged. Keep up the amazing cooking. I'll keep coming back.
Michael Sion


October 1, 2023
Went for the Sunday buffet. Food was excellent! Only disappointment was the Crab Rangoon, which was overcooked and dry. Everything else was delicious. The drinks were good and the waitress was constantly checking with us.
Jim Mahoney


October 1, 2023
This is a large restaurant with a broad menu and good service. The food was nicely prepared and large portions. Though the building is a bit tired, you can have a very nice evening here.
Eric Broockman


September 1, 2023
I've been visiting Wells a few times a year for over a decade and this is my first time dining here. The food was good and the service was great. Resteraunt is beautiful inside; will definitely be back.
Tyrone Williams


September 1, 2023
Excellent selection of super fresh and tasty buffet items. Will definitely be back!
Daphne


September 1, 2023